« Sunshine | Main | I Can Has a Tiara? »
August 25, 2007
Rocky Mountain Mule Deer in Velvet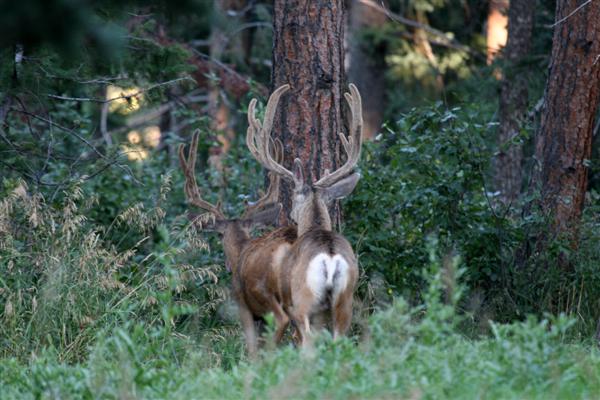 I've been trying to get some shots of the mule deer here now that their racks have come in. They're still in velvet, but soon, they'll go into rut and rub the velvet off their antlers, and their coats will change from brown to grey. Right now, they're eating the choke cherries and grass shoots that popped up from the rain we got this week. I shot these two behind my house.
Had to really go a long way to find one this big.This one was two houses down from me.
Technorati tags: mule deer in velvet

Delicious tags: mule deer in velvet

Folksonomy:These icons link to social bookmarking sites where readers can share web pages.

Posted by Rob Kiser on August 25, 2007 at 7:27 PM
Trackback Pings
TrackBack URL for this entry:>
http://www.peeniewallie.com/mt/mt-tb.cgi/1365
Listed below are links to weblogs that reference Rocky Mountain Mule Deer in Velvet:
» Synthroid. from Synthroid.
Synthroid. [Read More]
Tracked on November 20, 2011 2:08 AM
Comments
Post a comment
-->