« European Camp Daddy - Day 5: The Ring of Kerry | Main | European Camp Daddy - Day 7: Kenmare to Dingle »
August 6, 2007
European Camp Daddy - Day 6: The Ring of Kerry 2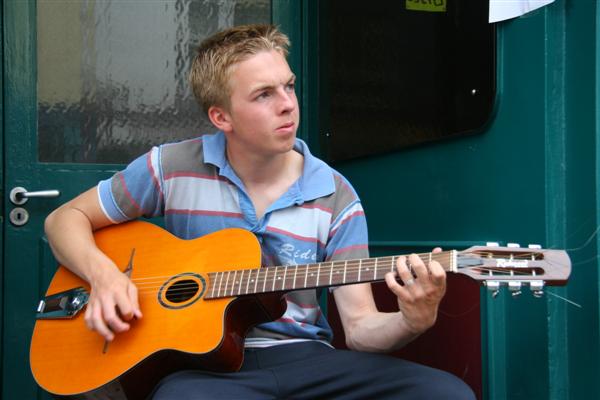 Today, we drove all the way around the Ring of Kerry.
We'd stop every so often and snap a few pictures. Sometimes, you'd see the same people taking pictures along the way. One of the things you realize though is that, if you want to talk to someone else, the first thing you have to ask them is "do you speak english?" Because, in Europe, there's a lot of languages, and English is just one of many. I can do OK with Spanish, but anything else, and I just wave them off.
We took a little detour and went on Valentia Island. At the east end of the island is a small ferry which was pretty fun. It's the fist time I've ever driven a car onto a ferry. Jennifer and I drove on and then it started moving and it was the weirdest feeling to see land moving while we were sitting in the car. I kept pushing on the brakes harder and harder, just by instinct. Really a very strange sensation.

They were having a Celtic festival at the little town of Cahersiveen on the Ring of Kerry. I was shooting some of the buskers, and this guy came up to me and said "Are you the photographer?"
And I'm like…"Uh…no. Not really. I'm just taking a few snapshots."
And he looks at the camera in my hands, I've probably got five grand in my hands, and he looks at me again.
"We hired a photographer but he didn't show up."
"Why…what do you want?" I ask.
"Well, just someone to walk around and take some pictures of the event.
"OK. Sure. I'll shoot it."
So, I started walking up and down the streets, shooting all the people I saw performing at the Celtic Festival. I took about three or four hundred pictures in a couple of hours.
Then, I walked into a building and copied them all onto a desktop for them and they gave me a € 28.00 sweatshirt and an € 8.00 poster and then this lady gave me a € 50.00 note and said "you can buy yourself some beers with this" and I was like "Thanks!"
I took the note and handed it to Jennifer and told her to go buy some toys, so she picked out a toy she liked and asked the man how much it was and he said she was so cute she could have it and she didn't spend a single Eurocent in that town.
As we were leaving town, it started to rain, and it rained all the way back .
We drove through Killarney on the way back to Kenmare. Killarney is too big. Overdeveloped. The town of Kenmare is the perfect size. I swear if I ever came back to Ireland, I'd just parachute into Kenmare and stay there for a week without ever leaving County Kerry.
We passed countless sheep on the drive back. Some in the fields. Many in the road. All with brightly died backs so the herders can tell which ones have been bred.
"What do they do with all the sheep, daddy?" Jennifer asked innocently.
"They eat them." I replied.
"People eat sheep?" she asked incredulously.
"Baby, I ate some last night." I offered.
"You mean lamb is the same thing as sheep?" she stammered in horror.
We got back to Kenmare and walked to the Internet Café. I checked my email while Jennifer filled out postcards. After she'd filled out a couple or four, she looked at me and said "Daddy, how do you spell Europe?"
Technorati tags:

Delicious tags:

Folksonomy:These icons link to social bookmarking sites where readers can share web pages.

Posted by Rob Kiser on August 6, 2007 at 2:26 AM
Comments
Post a comment
-->