« European Camp Daddy - Day 2 | Main | European Camp Daddy - Day 4: Cork to Kenmare »
August 2, 2007
European Camp Daddy - Day 3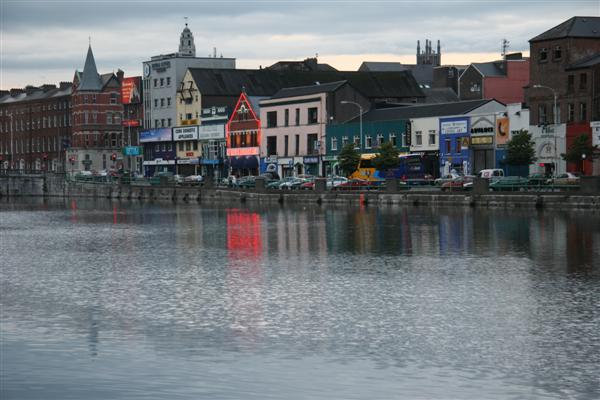 "How Life Comes Through"
In Dublin, Jennifer strong arms me into taking her to a toy store over near Grafton Street. So we catch a cab there and walk inside but the prices are unbelievable.
"Guess how much this dog costs?" I ask her, holding up a stuffed puppy.
"Five dollars?"
"Eighteen Euros."
And we leave to catch a train from Heuston Station. I want to shoot from the train, but the windows are filthy, so I'm cleaning the windows on the outside of the train and they're warning us that the train will be departing imminently.
Jennifer is on the inside of the train, waving frantically, and I'm outside trying to clear the grease off the windows because all the windows are absolutely filthy.
And she has fear in her eyes. Fear that she's about to be on a train to nowhere, halfway around the globe, and daddy will be gone.
But I climb on board and soon we're rolling through the Irish country side at 120 km/hr.
At Cork, we rent a car. They swear that my insurance won't cover a car rental in the UK, but I don't believe them. Rather, I know that they're inclined to lie. So, they might be telling the truth, but they have a serious conflict of interest.
I'm about to drive away in a country where they drive on the other side of the road, shifting with my left hand, in a country that leads Europe in collisions. I decline the coverage.
Now, we're standing in a light rain, trying to get inside the car I've "hired" from Avis in spot 319. I'm standing here in the rain, but there's no keyhole in the door to put the key in.
"Jennifer….I can't figure out how to get in the car. See if you can find a keyhole."
"Found it!" she shouts immediately. "It's over here…on the driver's side."
"Doh!" Forgot about that one. Yikes.
And, with that, we're rolling down the road, Jennifer squealing every time I drift into the wrong lane. The round-a-bouts are horrendous, because they go around them the opposite direction.
We find our hotel on the river in Cork, but now we'll have to parallel park and I hadn't even thought about that. Parallel parking is like learning to park all over again. But we park and check in.
"Your room is on the first floor."
"Oh. OK. Where are the elevators?" I ask. Because in Europe, they call the second floor the "first floor". The elevator buttons start at 0 for the ground floor. I ask for a nice restaurant on the river we can walk to and they give me a map which I promptly lose and now Jennifer and I are wandering, lost, through Cork but we find a cozy place and we're seated and Jennifer and I are eating dinner in an Italian restaurant in Cork, Ireland.
A jazz band plays softly in the background. One wall is an enormous mirror, tilted down slightly so the effect is that you can see yourself clearly from across the room. Like stadium seating in a theatre.
I'm watching the two of us in the mirror, from across the room, drinking a pale Italian beer. I love to travel. I've been on the road for 15 months and anyone with any sense would be sitting at home in the Colorado summer resting in the mountains. Not slipping through Europe like a gypsy. But I love to travel, and the person I like to travel with the most is Jennifer.
The beer changes me, and when it's finished, I turn to her, and express my deepest fears.
"One day you will leave me, baby. You'll grow up, and you'll leave me."
"That's how life comes through, daddy. Kids grow up and move away. That's just how life comes through."
Technorati tags:

Delicious tags:

Folksonomy:These icons link to social bookmarking sites where readers can share web pages.

Posted by Rob Kiser on August 2, 2007 at 2:55 AM
Comments
Sounds a bit like Alice in Wonderland..everything being backwards and all...
Posted by: sl on August 2, 2007 at 9:30 AM
Post a comment
-->