« Agenda for the 2008 Democrat National Convention in Denver | Main | Raptors »
June 7, 2007
Camp Daddy - Day 5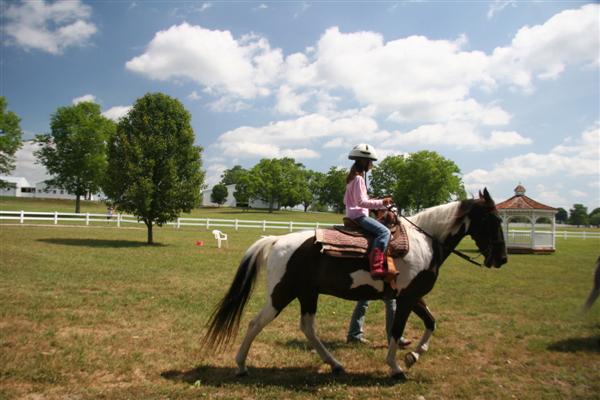 Today, we bought a mess of donuts from the Donut Palace and headed up to Shelbyville (pronounced "shovel") for Jennifer's lesson riding horses. Every time we drive past a cemetery, the child sucks in a huge breath of air and holds it until we are safely past. It never fails to scare me half to death. The horse riding deal at Cedar Ridge is pretty nice. We go in and right away they've got Jennifer brushing down this horse and I'm thinking....I'm not paying good money for my daughter to be a stable hand, but I figure I'll just keep my mouth shut cause I don't know anything about horses except that they're like women in that your shoud never trust them or look them in the eye.
So, pretty soon, they throw a saddle on the beast and then Jen's out riding around in the ring on this Tennessee Walking horse, just as proud as punch. She's wearing jeans and boots and a long sleeve shirt cause daddy had the presence of mind not to let her wear a skirt or shorts. After the ride is over, her eyes start puffing up and turning red and she's itching bad on her neck and back. Apparently, everyone on Earth knew that Benadryl would clear up her reaction except for me, so we went and got some Benadryl and Visine and after lunch at Fast Jack's, she was ready to roll again.
Tonight, she fell asleep in the car on the ride home. Maybe Camp Daddy is too much for her?

Posted by Rob Kiser on June 7, 2007 at 9:17 PM
Comments
Post a comment