« Delete 'My Photo Stream' in iPhoto | Main | Map of Mississippi Circa 1822 »
January 9, 2014
Christmas 2013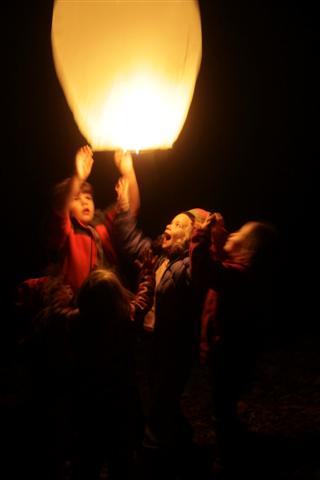 Above: Lighting Chinese Lanterns on New Year's Eve
Jennifer and I were together in Madison, MS for a while over Christmas break. Then, she flew to New Mexico, and I hung around for a bit before flying back to Colorado. These photos were all captured over Christmas break of 2013/2014 in or around Madison, Mississippi. The photos were shot on a Canon EOS 50D with one of the following lenses:
EF-S 17-85mm f/4.5-5.6 IS USM image-stabilized, ultra-sonic telescopic zoom
EF 100-400mm f/4.5-5.6L IS USM image-stabilized, ultra-sonic telescopic zoom
The soundtrack for the slideshow is Dirty Paws by Of Monsters and Men. I chose this song because I heard it somewhere and Shazam'ed it and it sorta got stuck in my head.
The images are compiled into an 8 Meg (4:24) Adobe Flash slideshow (2013_Christmas.swf) that will not work on an iPhone. However, everyone else on the planet should be able to open and view with any browser (Internet Explorer, Firefox, Safari, etc.). To view the slideshow, just click on the photo above. If you're on a PC and want to view the slideshow as a Windows executable, you can play this version (2013_Christmas.exe), and it allows you to play, pause, skip forward, backwards, etc.
Image post-processing was done in Adobe Photoshop CS5 Extended. The slideshow was created using Imagematics Stillmotion Pro.
Click here to view the other slideshows.
Lyrics in the extended entry.
Band: Of Monsters And Men
Song: Dirty Paws
Album: My Head Is an Animal

Jumping up and down the floor,
My head is an animal.
And once there was an animal;
It had a son that mowed the lawn.
The son was an okay guy.
They had a pet dragonfly.
The dragonfly it ran away,
But it came back with a story to say.
[Hey]
[Hey] Her dirty paws and furry coat,
She ran down the forest slopes.
The forest of talking trees;
They used to sing about the birds and the bees.
The bees had declared a war;
The sky wasn't big enough for them all.
The birds, they got help from below,
From dirty paws and the creatures of snow.
[La, la, la,
La, la, la, la.
La, la, la,
La, la, la, la.]
[Hey]
[Hey] And for a while things were cold;
They were scared down in their homes.
The forest that once was green
Was colored black by those killing machines.
But she and her furry friends
Took down the queen bee and her men
And that's how the story goes,
The story of the beast with those four dirty paws.
[La, la, la,
La, la, la, la.
La, la, la,
La, la, la, la.] x2
[Hey] x3
Read more: Of Monsters And Men - Dirty Paws Lyrics | MetroLyrics

Posted by Rob Kiser on January 9, 2014 at 5:36 PM
Comments
LOVE IT - GREAT PICS AS ALWAYS!!
Posted by: Aunt Tatia on January 9, 2014 at 7:33 PM
Post a comment