« Understanding Women | Main | Rise of the Obamavilles »
October 26, 2011
Tea Party Protest vs. OWS Protest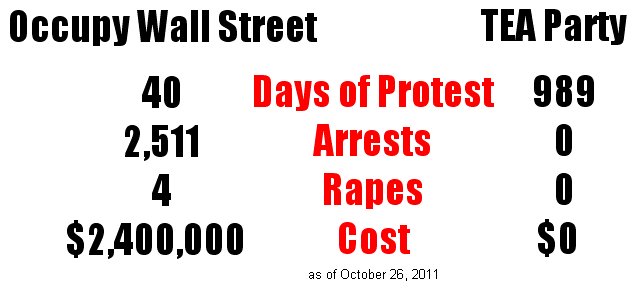 Posted by Rob Kiser on October 26, 2011 at 7:33 PM
Comments
Could you add a comparison of the number of people participating?
And could you mention your source?
Posted by: me on October 27, 2011 at 10:38 AM
Oh you like the teaparty? So you know nothing about history? Are a bigot? Racist? Homophope?
You're part of the 99% too asshole. What do you think our founding fathers fought against? Do you think they fought for a free country where capitalism, and corporate greed control our government?! I suggest you pick up a history book and get an education.
Posted by: Angry on November 2, 2011 at 12:34 PM
*homophobic. Sorry my enraged typing skills are not the best they could be.
Posted by: Angry on November 2, 2011 at 12:35 PM
So you're so angry you accuse someone who posts a few figures of being a racist, homophobic, ignoramus. I fail to see the connection. It is true that the general population is not being educated by the public school system and I believe therein lies the essence of many of our problems. Too many people can no longer read with critical thinking, nor do "sums" reliably so that they can balance their checkbooks or perorm simple draftman computations. The general population is not being prepared to earn a living suited to their skills, for the Boards of Education continue to foster the notion that every student is college material and ignore the wealth of opportunity for the students that love and do well in the "trades." Vo-Tech is "old school" and not politically correct today. Students are socially promoted right through graduation without being ready to pursue any sort of gainful employment.
Now take this group and feed them with stories of the Rich and Powerful playing high stakes money games that no one understands and these unemployed ignorant folks begin to focus their unrest on The Rich. They gather and swap stories about how miserable they are but they have no idea at all of what it takes to run a successful life, much less a business or a government. First folks must vote the Bums out and be careful who they elect.
People who are protesting must be careful who they are siding with. Think what could be accomplished if all this energy were spent on demanding better education, which certainly the citizens deserve. Or if it were spent on researching what is happening in the schools and businesses and government that got us to this point. One thing the tea party used was the political action committee approach to actually get their message out.
Random shouting, looting and bad behavior is a dubious way to actually accomplish change.

Posted by: sl on November 12, 2011 at 8:58 AM
Nicely said sl. Except for the part where you use the tea party as an example. For in the end they ended up with the likes of Sarah Palin (talk about your failing education system) in their camp and electing people who are just as self-serving and elitist as the rest of congress.
Posted by: me on November 14, 2011 at 7:16 AM
Post a comment