« Day 7: The Inland Passage - Port Hardy, B.C. to Prince Rupert, B.C. | Main | Day 9: The Long Road Back - Hyder, Alaska to Prince George, B.C. »
August 16, 2011
Day 8: Alaska At Last! - Prince Rupert, B.C. to Hyder, Alaska
Update: I am alive and well and resting quietly in the rain forests of Western British Columbia, Canada. Just now, I am in the town Stewart, B.C., Canada, directly across the border from Hyder, Alaska.
Vital Signs:
Miles driven today: 293.9
Miles driven this trip: 1,860.9
Photos captured today: 748
Photos captures this trip: 6,653
Hyder, Alaska
At 8:30 a.m., the alarm goes off and I wake up on Prince Rupert Island. I normally don't get up this early, as I only have to go 300 miles today. Doug has to go 400 though, so we meet downstairs and, in a light rain, we roll out of town at nine in the morning.
Heaing east, we slowly follow the Skeena River upstream, rising through spectacular mountain ranges, surrounded by low hanging clouds.
The isolation of this area is extreme, in stark contrast to the city where I normally work back in the U.S.
Occasionally, we see small boats motoring up and down the river, or people camping and fishing along the banks. We pass herons, Canada geese, and bald eagles.
We stop occasionally to take photos, and eventually, the rain lets up.
The mountains are essentially, a rain forest. The construction workers say that it always rains here, and they've only seen the sun three times this year.
So, it's always either raining, about to rain or just stopped raining a few minutes ago.
At Kitwanga, we stopped an I topped off my tank again. I asked the woman in the gas station what "Kitwanga" meant and she says it means "the land of rabbits."
I'm not sure if she was making this up or what.
In any event, this is where we split up. Doug kept on going straight, I turned north following Highway 37 North, the Cassier Parkway, I think Doug called it. But the town of Cassier was abandoned, broken up, and sold off in pieces. People came and hauled away ever building. So, they don't call it the Cassier any more I don't think.
As I headed up 37, it dried up. It stopped raining, but my boots were still soaking wet. So, I took them off, tied them to my bike so they'd air dry, and then I drove my bike in my socks. The only problem was that the foot pegs killed my feet, as they have pointed steel spikes for better grip. So, I stopped and put some bark on top of the footpegs and put my sock feet on top of the bark, and drove this way for some time.

I'm still too cold as I ride along highway 37, so at Meziadin Junction, I turn left onto 37A, and pull over to put on more warm clothes. I can't seem to get warm enough, so I put on everything that I have with me, which isn't much, of course. I'm wearing two pair of pants, long underwear, and an outer waterproof shell of Dri Ducks. Also, two T-shirts, a sweater, a denim shirt, a leather jacket, and an outer waterproff shell of Dri Ducks.
Driving up 37A, I notice a bear on the side of the road, and stopped to shoot him in my sock feet. I was really shocked. Jennifer had warned me that this road was chock full of bears, but I hadn't really imagined that I've have to take evasive action to keep from hitting them. There were bears everywhere. All along Highway 37A.
However, after driving for 8 days straight, I'm having a hard time staying awake. For most people going 90 mph on a dirt bike would be an adrenaline rush. At this point, I could easily fall sound asleep doing the same. I'm drifting in and out of a semi-conscious state. Day dreaming. I catch myself about to run off the road more than once, as I'm seriously about to drift off to sleep, when suddenly the engine dies.
The engine isn't getting fuel, so I switch over to the reserve tank. Yikes. I'ts going to be close. Hope I make it to Stewart, B.C.
I limp into town on fumes and go straight to the only gas station, where I learned to my dismay that they don't sell high octane gas. Because my tank only hold 4.7 gallons, I always use high octane gas to travel the maximum distance. Now, I'll have to try to make it back to Kitwanga on 87 octane gas instead of 92, so it will be very close on the road back, I'm afraid.
Lunch of Fish and Chips in town, with halibut for the fish this time. Then I roll across the border and into the nearly non-existent village of Hyde, Alaska. Unfortunately, the bar where you can get "Hyderized" is closed on Monday. I drive up to Fish Creek, and nearly run over a bear in the road. But there are no bears at the Fish Creek observation deck.
To return to Stewart, B.C., I have to go through Immigration, and the border patrol agents come out and try to be real hard asses. What did you buy while you were in Alaska? Do you have any guns?
"I'm like, come on guys. You just saw me drive by. I went down there and turned around. Neither of the two stores in town are open today."
They try to be real hardasses, but their office is a poorly disguised trailer, and when no cars are around, they step outside and have a smoke, watching the lake, wishing they were doing something meaningful with their lives.
I go check into the hotel room, cold, wet, and exhausted.
I could go shoot for a long time, as there's still a lot of daylight left, but I'm so exhausted I check into my hotel room. After a long warm shower, I climb in bed and slip into a deep coma.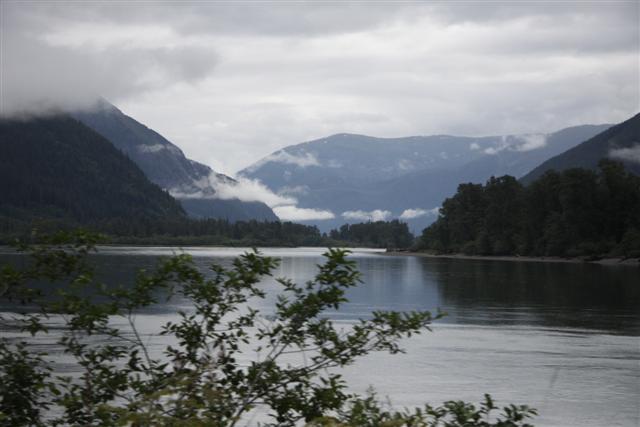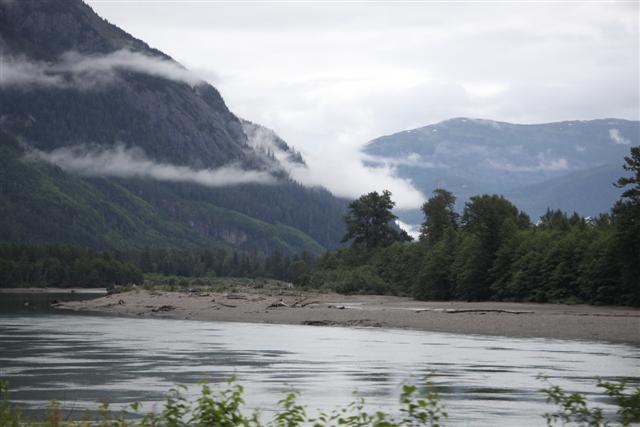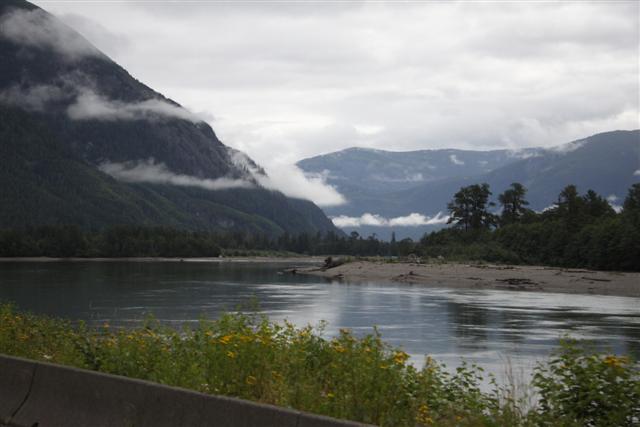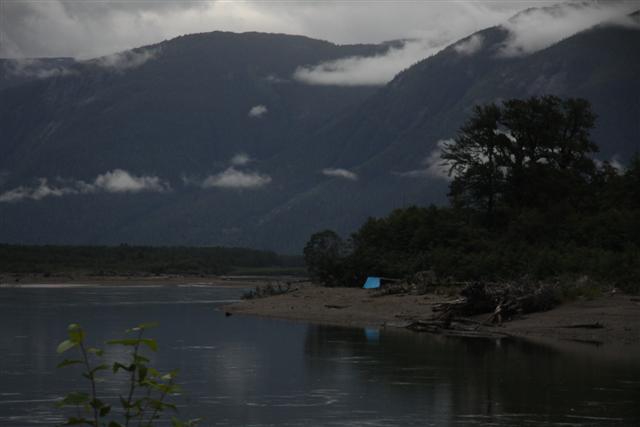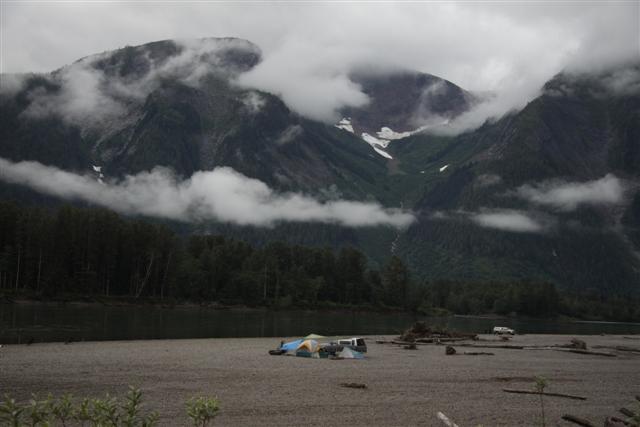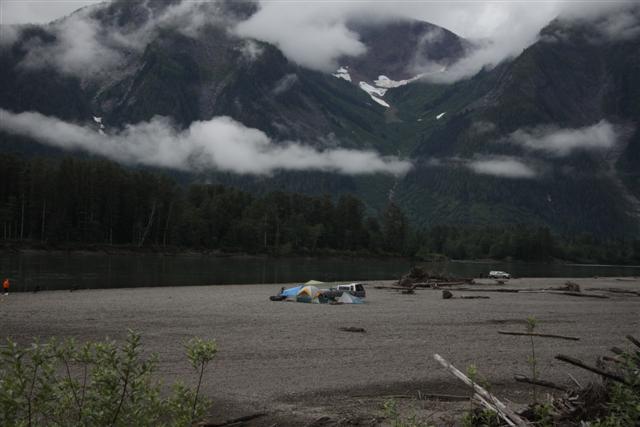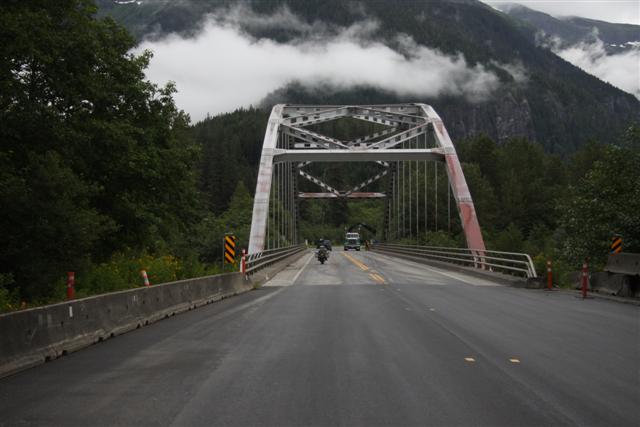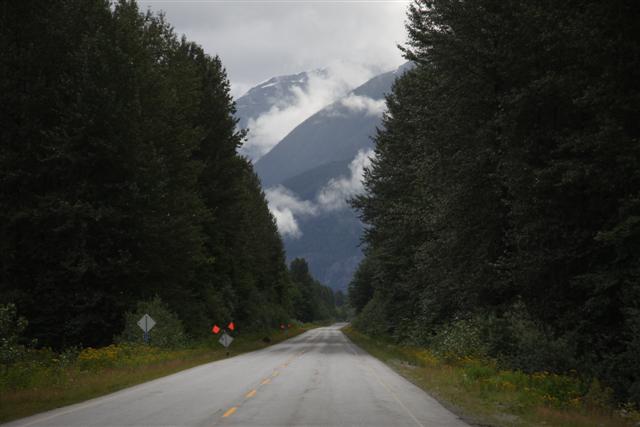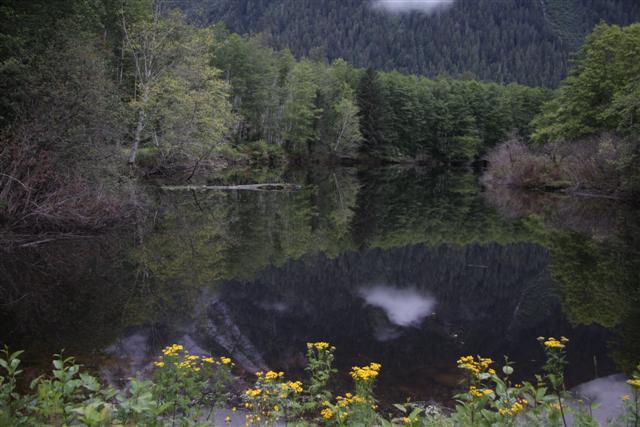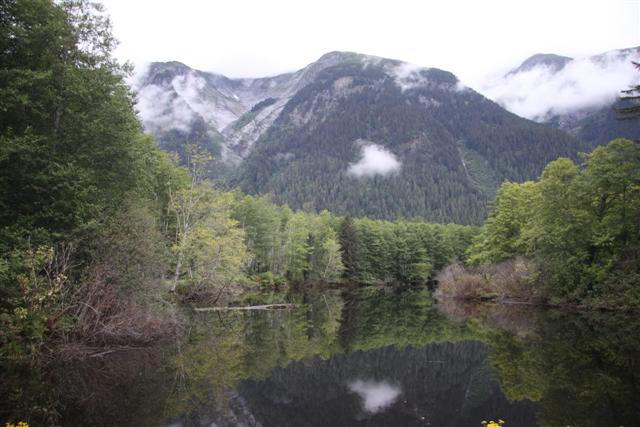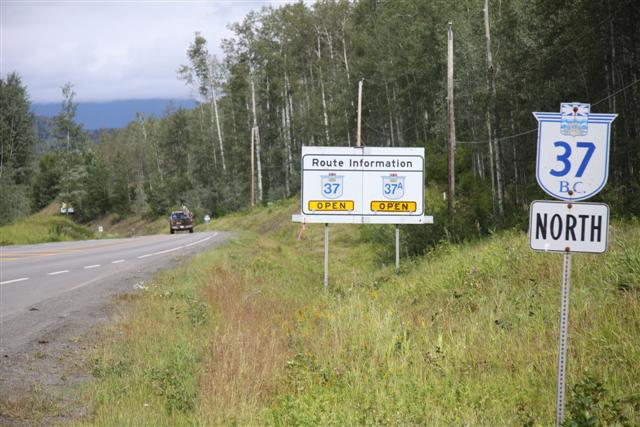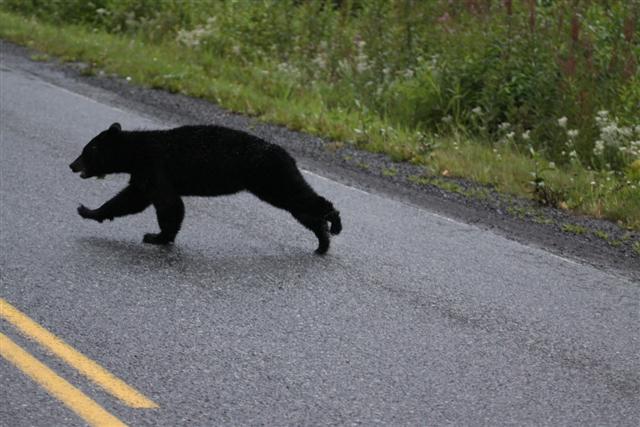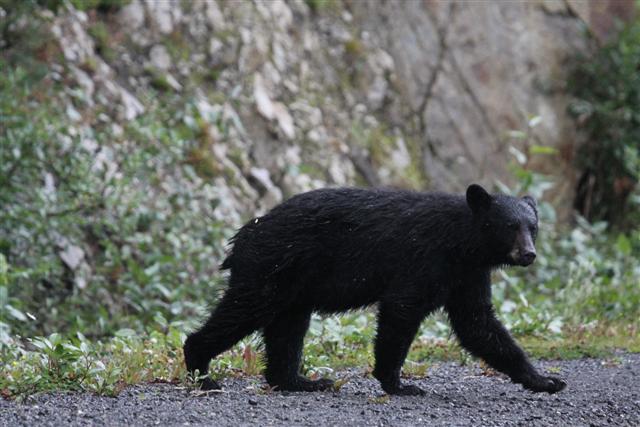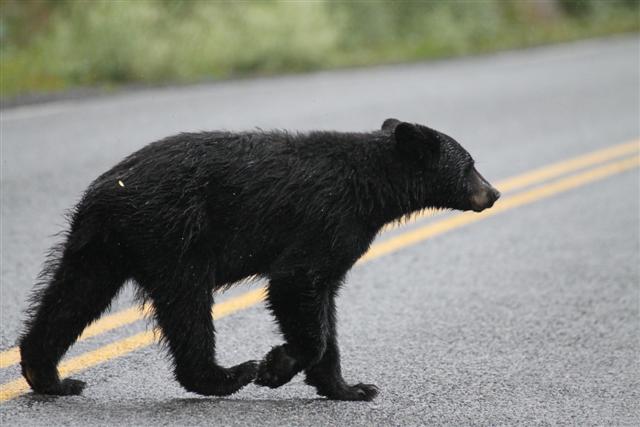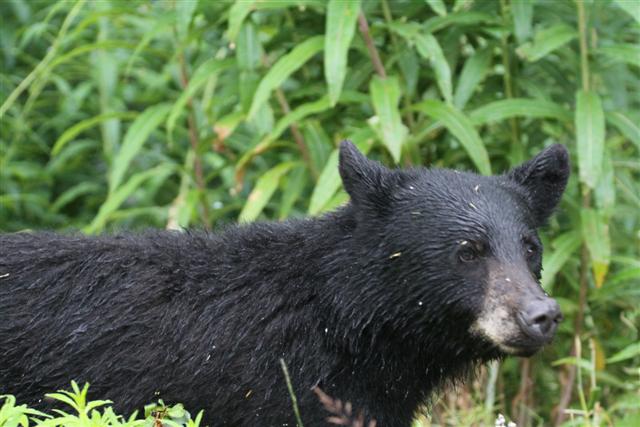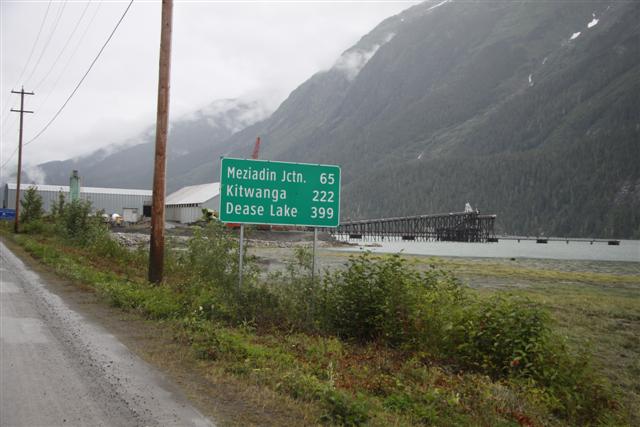 Posted by Rob Kiser on August 16, 2011 at 8:45 AM
Comments
You're the man, Slick. It was fun riding with you.
--Doug
Posted by: Doug Roberts on August 16, 2011 at 10:19 AM
Cool pics of the bears! Hard to imagine them just hanging around all over the place. Hope you get a good nap:)
Posted by: Molly on August 16, 2011 at 3:06 PM
Doug may have physically ridden with you, but the rest of us thank you for letting us look over your shoulder as you took this marvelous trip.
Posted by: sl on August 16, 2011 at 7:36 PM
is anyone else concerned that there have been no posts or other signs of life from this guy since august 16???
Posted by: treehugger on August 22, 2011 at 1:35 PM
I did post after August 16th. I posted every day. Probably, you're just looking at this one post, but not at the main website: www.peeniewallie.com
Posted by: Rob Kiser
on August 22, 2011 at 5:28 PM
Post a comment