« The Bottle Brush Tree | Main | Blue Lights and Adrenaline »
April 20, 2011
The End Game
I dunno where this ends up. There is no end game. Yesterday, I walked across the street for lunch and I watched a homeless guy buying food in a grocery store. He had all of his items there and when she rang them up, he didn't have enough jack. So, he has to start taking some things off the table. He indicates which items she should remove from his selection. A bottle of Louisiana hot sauce. Some other things. Now, as she scans them, she's removing them from his total. His total comes down, but he ends up giving back about 1/3 of his items. Probably he's not too good with math. Of course, he's just dog-cussin' her the whole time like somehow it's her fault. She doesn't set the prices. But she's the one that's keeping him from leaving the store with all of his items. So this is where we are.
And I find myself wanting to laugh. Not because it's funny. Or maybe it is kinda. I mean, this is what the city does to you. It desensitizes you to this. Never in my life have I seen anyone have to put something back at the grocery store because they couldn't afford it. But now, this poor guy does and somehow I find humor in that. Why? I can't say. Probably I'm going to hell.
After work, Carol has purchased tickets to see some guy speak about Google, the trillion dollar company just down the road. So she asks if I want to go and I say sure. Like, why not? Giddy up.
So we meet downtown around Market and 2nd and we go to see this guy speak. Turns out it's a presentation by author Steven Levy about a recent book he's written titled "In the Plex", meaning "Inside the Googleplex".
Very interesting story about Apple, Microsoft, and Google. Very cool to hear him speak.
The people that put this little lecture together are apparently called the Commonwealth Club. I'm not sure who the Commonwealth club is. Probably one of those little liberal pseudo-communist can't-we-all-get-along tree-hugging liberal clubs that sort of pushes communism, but in a discreet and underhanded way. But what do I know? Maybe I'm wrong on this.
Afterwards, we go to this little Thai restaurant and I tell Carol I'm going to get the coconut milk soup and she's like "they don't have that here" and I'm like "what kind of Thai restaurant doesn't serve coconut milk soup?" Like wtf?
But they don't, of course. Sucks, but what can you do?
After dinner, Carol rides the bus home and I try to get some photos of her riding the bus because I never knew her to take anything but cabs but I swear she road the bus tonight.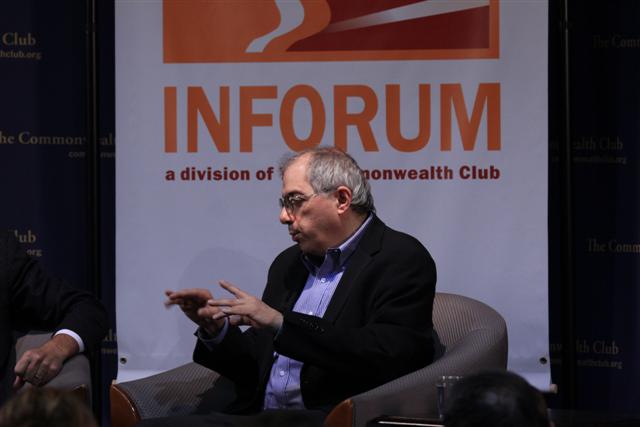 Posted by Rob Kiser on April 20, 2011 at 12:33 AM
Comments
Post a comment