« Federal Judge Strikes Down Obamacare | Main | My new toy »
February 4, 2011
Go Pens!
A bunch of us went out on Wed night, per usual. This time, however, we somehow scored the company's luxury suite to watch a Penguins game at the new arena, Consol Energy Center. The new building was constructed immediately adjacent to the old Mellon arena.
So, I don't know where Pittsburgh is getting all of the cash, but they've built at least 3 new venues recently. The Steelers and the Pirates used to play at 3 Rivers Stadium. Then the city built two new parks, PNC Park for the Pirates and Heinz field for the Steelers. Once those were completed, they demolished 3 Rivers Stadium and turned it into a parking lot.
More recently, they built the Consol Energy Center next door to Mellon arena. Mellon arena is currently surrounded by a chain link fence while they debate what to do with it. My guess it's going to be a parking lot fairly soon also.
So, in any event, we went in an watched the Penguins beat up on a bunch of pansies masquerading as an NHL hockey team - The New York Islanders.
It was more of a prize fight than a hockey game. I've never seen more fighting in my life. I kept expecting the Hansen brothers to show up.
In any even, toward the end of the game, the NY Islander's goalie DiPietro put a cheap shot on Matt Cook and that started a free-for-all on the ice. With 16.5 seconds left on the clock, Johnson skated across the ice like lightning. He was across center ice before I knew what was going. He threw off his gloves and mask and cold-cocked DiPietro, dropping him like a sack of potatoes. Brilliant. Definitely a game-defining moment. With the score at 3-0, a bunch of numb-nuts had already left the game by the end of the third period to beat the traffic, I assume. I'm sure they were kicking themselves listening to it on the radio on the drive home. Classic.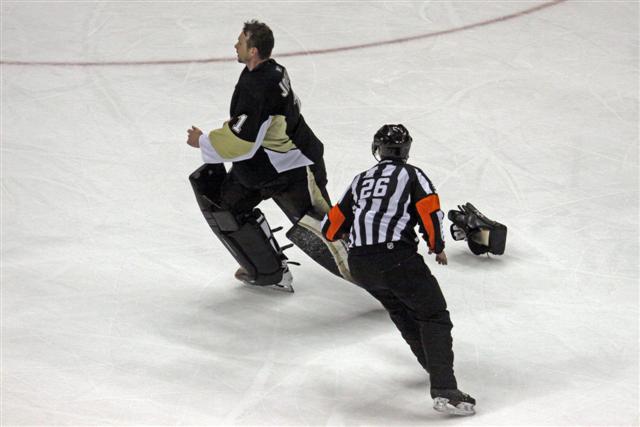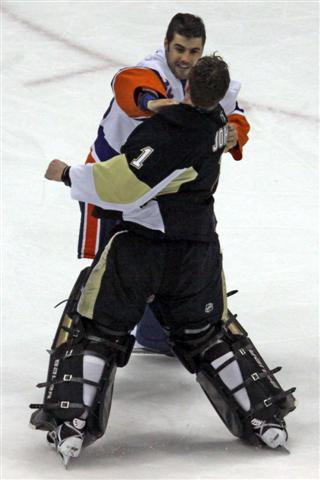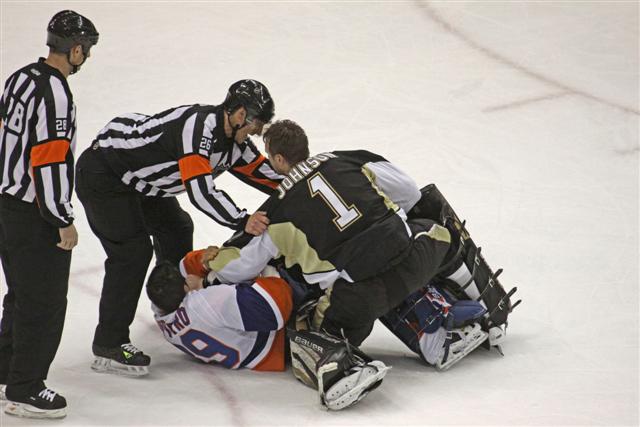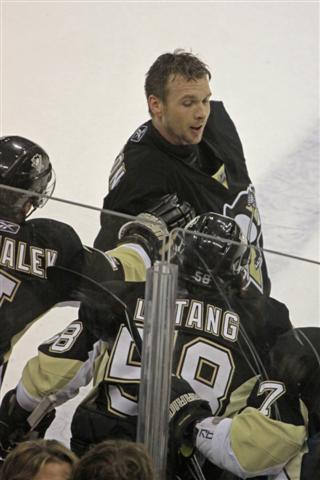 Posted by Rob Kiser on February 4, 2011 at 9:43 AM
Comments
Post a comment