« Who Says Money Can't Buy Happiness? | Main | MSOutlook Won't Resolve Hyperlinks »
February 12, 2011
First Day in the Field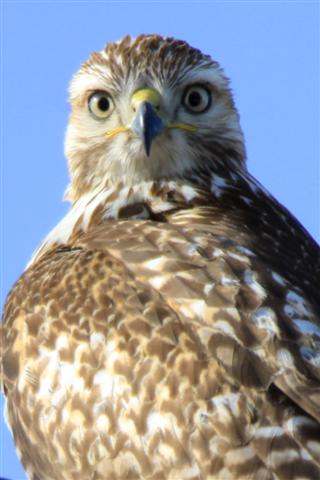 So, today was my first day in the field with the new Canon "Cannon", as I like to call it. First of all, I should mention that this camera garners a lot of attention. I had people stop their cars and ask me what type of lens I had. The police approached me for taking photos while parked in the middle of the road. Total strangers asked for me to take their pictures. So, obviously, if I'm going to walk around with this thing, I'm going to have to get some business cards printed out just so people will leave me alone. At this point, they don't even ask if I'm a photographer. There's no plausible denial at this point. I think I've lost that battle.
I shot the camera free-hand, and after a day in the field, I can tell you that my arms and wrists are sore. It's one thing to be able to raise the camera up to your eye. Quite another to old it steady above your head while shooting birds all day. This is more challenging than I'd imagined.
These images aren't great, but for my first day out, I'm happy with them. I need to work with a tripod and a remote shutter release, of course. But a lot of these images were shot from further away than I normally shoot. A large part of bird photography is getting lucky and having the bird sit still while you approach him. The closer you get, the better the shot.
Saw several hawks today. Mostly Red-tailed hawks. Some mature, some immature. Also, I shot a female American Kestrel. We saw a mature Bald Eagle, but it flew before I could get any shots.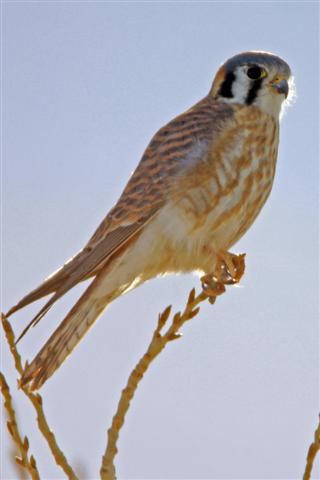 Above: Female American Kestrel, as indicated by the lack of blue on the leading edge of wings and the lack of pronounced markings on the breast.
I assume that the bird above is an immature Red-tailed Hawk. (Verifying at Whatbird.com).
Posted by Rob Kiser on February 12, 2011 at 10:14 PM
Comments
From the pictures at this site I sure I've got a beautiful little female American Kestrel who has decided to roost in a small corner of my porch. She makes a bit of a mess coming and going but will leave her "be" until she decides to move in the spring. Lots of wide open fields around here (north of Asheville, NC.) for her to hunt mice etc. Thanks for the pictures so I could identify this fabulous little creature.
Posted by: John Cusack on January 7, 2014 at 4:14 PM
Post a comment