« The Potato Monsters | Main | Postcards From a Dream »
January 29, 2011
Excitement at the Compound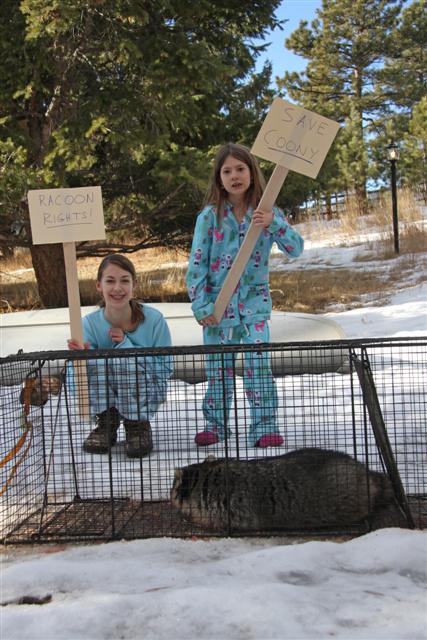 We had some excitement today at the compound. I woke up early in the morning and saw that something had gone for my bacon in the trap. I knew what it was but figured I'd wait and deal with it in the morning.
This morning, Jennifer and I slept in until about 9:00 a.m. I asked her to check outside and see if we caught anything. The animal was asleep, though, with its back to us. So all you could see was some grey fur. Could have been a fox, or a coyote, or a coon. Hard to say.
Suddenly, she didn't want to kill it. Just wanted to live and let live. Then, she runs down the stairs and bolts outside. Promptly returns and says "Oh...it's just a raccoon....you can shoot it."
But then, once we got outside, the neighbors showed up with their signs "Save Cooney" and "Coon Rights", etc. Apparently they'd spotted him earlier in the morning and set to making signs.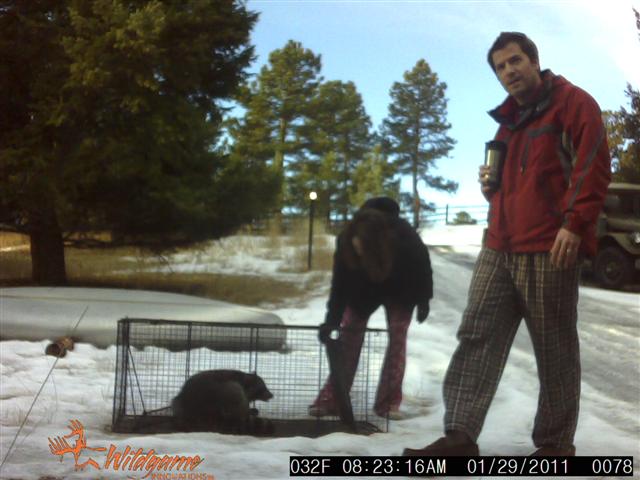 So I agreed to relocate the varmint (not in the metaphysical sense) and we loaded him up in to the back of the Tahoe and drove him to an undisclosed location. When we let him out of the trap, he swam across the creek and wandered into a cave just like a Disney movie, happier than a pig in slop.
Posted by Rob Kiser on January 29, 2011 at 6:56 PM
Comments
i can here you say things about that animal that it looks ugly.
Posted by: jackson kiser on January 30, 2011 at 12:40 PM
Post a comment