« The Emperor's New Clothes | Main | The Orange Juice Queen »
January 17, 2009
The Dating Triangle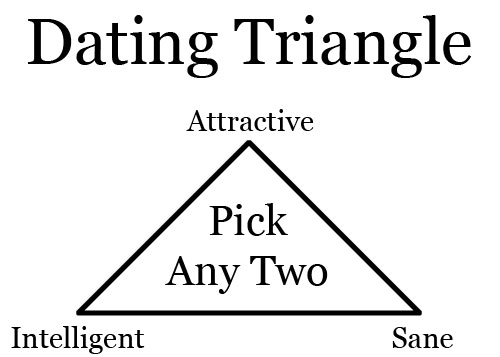 Update: From Alice
Technorati tags:

Delicious tags:

Folksonomy:These icons link to social bookmarking sites where readers can share web pages.

Posted by Rob Kiser on January 17, 2009 at 2:08 PM
Trackback Pings
TrackBack URL for this entry:>
http://www.peeniewallie.com/mt/mt-tb.cgi/2237
Comments
Posted by: Molly on January 20, 2009 at 7:57 AM
This is overly complicated. Look up Barney Stinson's Crazy/Hot scale. There really only need to be two axes.
Posted by: Alice H on January 25, 2009 at 2:27 PM
Post a comment
-->