« June 2007 | Main | August 2007 »
July 31, 2007
European Camp Daddy - Day 1
Jennifer and I made it into Dublin today. We slept on the plane, but it we lost 7 hours yesterday, so we were pretty wiped out. We crashed hard after lunch. Then, we toured Guinness (we took the short tour). Afterwards, Jennifer went shopping for "bath bombs" at Lush on Grafton Street.

Posted by Rob Kiser on July 31, 2007 at 2:18 PM : Comments (1) | Permalink
Free WiFi Hotspots in Ireland
Caldragh House - Caldragh - Co Leitrim - Carrick on Shannon
The Twelfth Lock Hotel and Bar - Castleknock Village
Lancaster Lodge - Western Rd - Lancaster Quay - Cork
Mugs Café - Castle St. - Dalkey
Drogheda OpenZone - Boyne Valley Hotel and Country Club; Jaffas Cafe; Westcourt Hotel; Drogheda Chamber of Commerce offices; Monks Cafe; two Maxol Service Stations; Star & Crescent; Bridgend Hotel; and the Black Bull Inn
Avondale B&B - 41/42 Lower Gardiner St. - +353 1 874 5200 - Dublin
Academy Hotel - 11-13 Findlater Place - Dublin
Browns Barn - Naas Road - City West Bridge - Dublin
Drury Court Hotel / Bia Bar - 38-30 Lr Stephens St - + 353 4751988
Dublin 4 Shortlets - Anglesea Road - Dublin
KC Peaches - Pearse Street - Dublin
Kylemore Café - St Stephen's Green Shopping Centre - Dublin
Harbor Master Bar & Restaurant - 30 minutes free with Bitbuzz voucher - Customs House Dock - Dublin
The Market Bar - Georges St. Arcade - Dublin
Expresso Bar - Custom House Quay - Dublin
Kylemore O'Connell - requires purchase - O'Connell Street - Dublin
Odessa Club - 13 Dame Court - Dublin
Ocean Bar - Charlotte Quay Dock, Ground Floor, Millennium Tower - Dublin
Searsons - Baggot Street - Dublin
The Bailey - Duke Street - Dublin
Cuckoos Nest Public House - Greenhills Rd, Tallaght - 35314515061 - Dublin
Camden Deluxe Hotel - reception, breakfast room, coffee shop, bar, outdoor seating area and the first floor hotel rooms - 84-87 Lwr Camden St -0035314780808 - Dublin
The Globe - limited time - South Great Georges Street - Dublin
The Bernard Shaw Pub - South Richmond St - Portabello, Dublin
Bewley's Hotel - Merrion Road, Ballsbridge - + 353 (0)1 668 1111 - Dublin
Bewley's Hotel - Central Park, Leopardstown - + 353 (0)1 293 5000 - Dublin
Leeson Inn Downtown - 24 Lower Leeson St - +3531 662 2002 - Dublin
Short Let Apartments - Ballsbridge / Donnybrook - Dublin
Hartley House B&B - 44 Merion Road, Ballsbridge - +353 (01) 6685080 - Dublin
Almara B&B - 226 Collins Ave West, Whitehall - +3531 8510512 - Dublin
Anna Livia Lounge - Dublin Airport - if you have an extended layover at the airport a 20 Euro fee will get you free drinks, snacks and Wi-Fi in this private lounge
The 40 Foot - Royal Marine Road - The Pavillion, Co. Dublin - Dun Laoghaire
Morgan's Bar - in the Forster Court Hotel - Forster St - Galway
Ballyliffin Golf Club - Inishowen - Co. Donegal
River Court Hotel - Johns Street - 0567723388 - Kilkenny
The Copper Kettle - Kilnaleck - County Cavan
Leixlip House Hotel - Captains Hill - Leixlip, Co.Kildare
Liffey Valley House Hotel - St. Catherine's Park - Leixlip - Co. Kildare
Lethean public house & restauraunt - Main Street - 00 353 50263544 - Portlaoise - Co. Laois
The Sallyport Cafe Bar & Restaurant - Johnsgate Village - +353 61 417550 - Limerick

Posted by Rob Kiser on July 31, 2007 at 1:29 PM : Comments (0) | Permalink
July 30, 2007
Christmas In July
As we enter the Denver International Airport, Jennifer turns to me and asks "What animal are we flying on?"
All of the Frontier Airlines planes have a different animal painted on their rudders. But we're not flying Frontier. We're flying US Air.
"These planes don't have animals painted on them." I explain.
"Oh."

We walk into the elevator at the airport and I reach for the button.
"Lemme push it. Lemme push it."
It's then that it hits me. This person that I'm about to drag halfway across the planet is just a child. While I have no doubt that she will enjoy Paris and Dublin, I can't help but wonder if she wouldn't be just as happy to stay in a hotel in Lakewood and play in the elevator all day.
"Look how long all the lines are, daddy."
"We don't have to stand in those lines, baby."
"Why not?"
"Cuz lines are for suckers."
Inside the men's room, I heard some man complaining aloud.
"I can't believe it. They let me fly all the way here with her, and now they won't let me take her on the plane. God I hate United."
Now, we all hate United. That's something all life forms can agree on. But why wouldn't they let him take her on the plane? And who was she? Suddenly, it dawned on me that I was taking Jennifer out of the country, without so much as a note from Michelle. I began to panic.
"And she's in such a good mood. She's been singing all morning."
I'm thinking….that would be kind of annoying. I hope there's not going to be any girls singing on my plane.
Then, I see the man has a small wooden box with some screen on the top and a bird of some sort inside it. So that's what he's complaining about. They won't let him take his bird on the plane. Poor sucker.
Once the plane was airborne, Jennifer turns to me and says "OK. Can I have my toy now? Huh? Kan-eye????Huh??"
"Who said it was a toy? I said I got you a present."
"Can I have it now, can I? Huh?"
"OK, baby. Here it is. Happy nine-and-a-half birthday."
And I hand her a pink Nintendo DS.
"Cool! A Nintendo!"
Apparently, she knew what it was cuz one of her girlfriends had one and everyone within about five rows cranes to admire the new toy. I don't buy her a lot of things. I hate to shop. But I wanted to get something for her to make the horrendously long flight pass a little faster, and it's a great feeling to see her eyes light up that way. I'm in 5A and she's in 5B and suddenly it's Christmas in July.

Posted by Rob Kiser on July 30, 2007 at 6:00 PM : Comments (1) | Permalink
European Camp Daddy
Jennifer and I leave for Dublin tomorrow. It's one of those rare occasions where I'm not working and she's not in school so I figured we should make the best of it and get out of the country for a while. She's really excitied because she's never been to Europe.
I asked her earlier this year where she wanted to go for her half-birthday, and she chose Ireland. She was telling me she wanted to see Waterford and Cork and the Dingle Peninsula. And I'm like..."Are you on crack? We're not even Irish. We're German. And English, I think."
Apparently she became enamored with the Emerald Isle after taking Irish step dancing lessons from one of those River Dance gypsies. Later, she did a school report on the country and the fix was in.
"Well, we could go France and see Paris and London."
"London isn't in France. It's in England" I complained.
"Did they move it?" She asked.
"No. It's always been in England. What's wrong with you?"
So, in any event, she turned nine and a half a month ago, and we're finally getting around to going to Ireland. Unfortunately, it's a LONG way from Denver to Ireland. Plus, we have a layover in Philly. So, we'll be flying for like 96 hours, I figure.
I went and got her some surprises today to help pass the time on the plane. I bought donuts for breakfast, and lots of candy and snacks for the flight. Plus, to make the time on the plane pass a little faster, I got her a pink Nintendo DS and some games for it.
Continue reading "European Camp Daddy"
Posted by Rob Kiser on July 30, 2007 at 12:26 AM : Comments (1) | Permalink
July 28, 2007
Robert McLean Never Paid MTSU
Robert W. McLean: The Man No One Knew
An MTSU Foundation member, who asked not to be identified, told WGNS News that an agreement for the pianos was drawn-up allowing McLean to pay only the interest on the principal of the gift for 4-years. After that time, he would pay one-tenth of the pledge annually. Although figures are not being released, it has been confirmed by several reputable sources that payments are not being made. In addition to the Steinway gift that put McLean's name on the School of Music, he made another $1-million gift in 2006 designated for athletics and academics.

Another community leader who lost a significant amount of money in what is being called a Ponzi scheme, told WGNS, "He hit me when I was vulnerable. I was fighting a recurrence of cancer and a close family member had a terminal illness. McLean visited the hospital daily, and later even participated in a family members' funeral. I had set aside a gift for MTSU, but was persuaded to let him help it grow. I feel so violated!"
Posted by Rob Kiser on July 28, 2007 at 9:27 PM : Comments (0) | Permalink
Real Men Wear Pink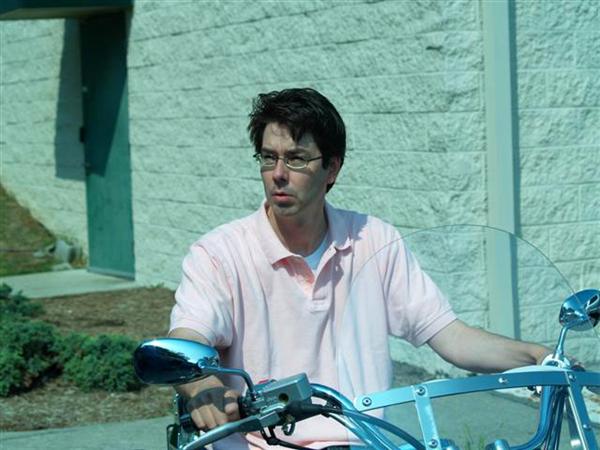 Dee Dee bought me a pink shirt, so I figured that if she bought me one, I should be man enough to wear it. Here's a photo of me driving Wendell's Yamaha 1100 around Tullahoma.
Posted by Rob Kiser on July 28, 2007 at 11:37 AM : Comments (3) | Permalink
July 24, 2007
Many Bilked By McLean Yet To Come Forward
According to WGNS News:
"Reliable sources who wish not to be identified told WGNS News that many well-known community leaders have not come forward with lawsuits. Unfortunately, some of those who are quiet are successful senior citizens who reportedly may have used significant portions of their retirement money. Attorney Frank Fly told WGNS News, "Many lives have been ruined." According to the local filings, people would give McLean money. A promissory note in that amount would be drawn-up with an interest to be paid that was significantly higher than the going rate at the time the note was agreed upon. Rates from 8 to 20 per cent were listed on the lawsuits filed here in Rutherford County. Some officials estimate that lawsuits against Robert W. McLean could explode to more than $50-million before it's all over."
Related Posts:
Massive Ponzi Scheme Unravels in Middle Tennessee
Feds Raid Robert McLean's Office
Posted by Rob Kiser on July 24, 2007 at 5:17 AM : Comments (0) | Permalink
July 23, 2007
Feds Raid Robert McLean's Office
The Feds raided Robert McLean's office on Friday:
Federal agents searched the office and home of Murfreesboro investment adviser Robert McLean Friday.

Spokeswoman Jennifer Pollard of the Internal Revenue Service Criminal Investigation division said IRS agents assisted the U.S. Postal Service and the FBI in the search.

"We were there on official business," Pollard said. "I can't tell what paperwork was taken."
He's stolen at least twenty million dollars from the poor souls unfortunate enough to trust him. He even owes Middle Tennessee State University money.
Middle Tennessee State University acknowledged this morning that philanthropist Bob McLean — alleged to have stolen nearly $20 million from investors — owes the university money.

McLean faces a U.S. Bankruptcy Court hearing in Nashville Tuesday as creditors try to force the sale of his assets through an involuntary bankruptcy petition.

The 1972 MTSU graduate and investment advisor has been well-known in Murfreesboro for years as a generous philanthropist and supporter of the arts and the university. He was checked into a psychiatric hospital in Nashville last week, but the hospital has declined to confirm whether he still is there.
Creditors are trying to force this crook into "involuntary bankruptcy". Har! Har! I've never even heard of it, but, if anyone deserves it, this bastard certainly does.
Creditors who say they lost millions of dollars to Murfreesboro investment adviser Robert W. McLean are trying to force him into bankruptcy to get their money back.

Three investors, including Brentwood venture capitalist Fred C. Goad and retired Murfreesboro neurosurgeon Warren F. McPherson, filed the involuntary bankruptcy petition Thursday in federal court in Nashville, claiming they are owed a combined $11.4 million.

The third investor, Ron Vannatta, is one of at least seven investors who have sued McLean in the past five weeks, saying he owes them more than $15 million. A lawyer for one of the plaintiffs has estimated the amount could go as high as $50 million or more.

Goad and the others filed their petition under Chapter 7 of U.S. Bankruptcy Code, which could lead to the sale of McLean's assets.
This idiot's life isn't worth a plugged nickel. He was running a Ponzi scheme for 10 years and it finally collapsed on him. I doubt he will survive long enough to be formally indicted. The rats take care of their own on the Cumberland Plateau.
Previous Post: Massive Ponzi Scheme Unravels in Middle Tennessee
Posted by Rob Kiser on July 23, 2007 at 8:24 PM : Comments (0) | Permalink
July 22, 2007
Iranian Authorities Break Up Spy Ring...Of Squirrels
At first, I thought this was a joke, but it appears to be true.
"Police in Iran are reported to have taken 14 squirrels into custody - because they are suspected of spying. Britain's latest secret weapon? The rodents were found near the Iranian border allegedly equipped with eavesdropping devices. The reports have come from the official Islamic Republic News Agency (IRNA)."
http://www.washingtonpost.com/wp-dyn/content/article/2007/07/19/AR2007071902453_3.html
"A few weeks ago, 14 squirrels equipped with espionage systems of foreign intelligence services were captured by [Iranian] intelligence forces along the country's borders. These trained squirrels, each of which weighed just over 700 grams, were released on the borders of the country for intelligence and espionage purposes. According to the announcement made by Iranian intelligence officials, alert police officials caught these squirrels before they could carry out any task."

"Fixing GPS devices, bugging instruments and advanced cameras in the bodies of trained animals like squirrels, mice, hamsters, etc, are among modern methods of collecting intelligence. Given the fast speed and the special physical features of these animals, they provide special capabilities for spying operations. Once the animals return to their place of origin, the intelligence gathered by them is then offloaded. . . ."
So maybe that's why slinky is always barking at the squirrels? Maybe they're spying on me.
Posted by Rob Kiser on July 22, 2007 at 11:00 PM : Comments (0) | Permalink
July 20, 2007
Massive Ponzi Scheme Unravels in Middle Tennessee
There's a criminal named Robert W. McLean that's been running a Ponzi scheme on the Cumberland Plateau of MIddle Tennessee for the last 10 years. It was pretty much a secret until it unraveled in April, when a lack of new suckers caused the scheme to implode.
Robert McLean was promising and delivering returns of 10% to 20% a month on investments for nearly a decade. Unfortunately, it was all just a classic Ponzi scheme. Although he has not yet been charged with a crime, he's been sued in civil court by 7 "investors" seeking to recover approximately eleven million dollars. Current guess is that the final tally may show as much as fifty million has gone missing.
McLean checked himself into a mental institution in Nashville last week. I'm not 100% sure why he did this, although I suspect that he was getting advice from someone, and it will probably stall the proceedings against him. One thing is for sure, if he comes out of that hospital, he is a dead man. His life is not worth a plugged nickel in Shelbyville.
http://www.rctimes.com/apps/pbcs.dll/article?AID=/20070719/NEWS03/707190394/0/MTCN0306
http://www.dnj.com/apps/pbcs.dll/article?AID=/20070719/NEWS01/707190317/-1/CUSTOMERSERVICExx
http://dnj.com/apps/pbcs.dll/article?AID=/20070718/NEWS01/707180346/1002
http://www.wsmv.com/news/13715823/detail.html
http://www.t-g.com/story/1232003.html
Related Posts: Feds Raid Robert McLean's Office
Posted by Rob Kiser on July 20, 2007 at 12:34 PM : Comments (0) | Permalink
July 19, 2007
The Monkey Wrenching of Nightmares
Glenn Reynolds observes that "Gaia's worshippers are angry," and that the "National Intelligence Estimate warns of enviro-terrorist attacks."
The first linked-story, about the hate-crime against a Hummer owner, reminds me of something I heard on Car Talk several years ago, and posted on an old blog of mine:
Posted 3/11/2003 08:57:09 PM by Robert Racansky
I was listening to Car Talk this weekend (program # 310). About 35 minutes into the show, Melissa from Eugene, Oregon called and asked if her Isuzu Amigo could be considered an S.U.V. She was concerned because:

Eugene...is a really rather liberal town. And we were at a peace rally recently, and somebody held up a sign that said "S.U.V. drivers should be drafted first." Which sent me into an absolute panic, because about two years ago somebody else blew up a bunch of S.U.V.s at one of our local car dealerships.
Perhaps this will prompt NBC to produce another spinoff series, Law & Order: SUV starring Fred Thompson.
If you are interested in how to commit acts of vandalism to save the Earth, pick up a copy of Ecodefense: A Field Guide to Monkey Wrenching at Amazon.
[UPDATE: The FBI press release does not mention eco-terorrism, nor does the DNI's 7-page report (PDF file). Both do devote a paragraph to "non-Muslim" "single-issue" groups, but the CNS story cited by Professor Reynolds makes a mountain out of a less than a molehill. I recall that "Terrorism in the United States," published between 1996 - 1999, did mention the threat of environmental activists, but I don't have time to go through them right now. FBI publications here.]
Continue reading "The Monkey Wrenching of Nightmares"
Posted by Robert Racansky on July 19, 2007 at 12:34 PM : Comments (2) | Permalink
July 17, 2007
The Unexamined Life: A Tiding of Magpies
"The unexamined life is not worth living." - Socrates, in Plato, Dialogues, Apology
Jennifer and I drag our suitcases into the open house, leaning against the uneven heat of the July summer. Her. Me. Two suitcases. Two children. One forty. One ten.
Screens and dried grass and empty bluebird houses. No bluebirds. Only Magpies and Crows and Stellar Jays. Corvidae. Oscine Passerine birds. That's what we have and I hate them. I've watched Magpies drag baby bluebirds from their nest and eat them. They're mean and I don't like them and there's a tiding of them out back right now making an awful din.
A 12 gauge appears in my hands. An automatic. It just materializes in my hands. Maybe it was in the gun cabinet a few seconds ago. But now I have it in my hands and I'm studying the shotgun shell really closely….It's a 2 ¾" dove load.
OK. That will work on Magpies, I figure. I open the door and step outside. The magpies are battling vociferously, over what, I do not know. I do not care. I'm about to put and end to this madness.
For the rest of the story buy my book "Killing Strangers.
Posted by Rob Kiser on July 17, 2007 at 9:45 PM : Comments (0) | Permalink
A Scold of Jays
One of the craziest oddities of the English language is that there are so many different collective nouns that all mean "group" but which are specific to what particular thing there is a group of: a herd of elephants, a crowd of people, a box of crayons, a pad of paper, etc. There is great diversity of collective nouns associated with animals, from a sleuth of bears to a murder of crows. The following is a list of the correct terms to describe groups of various types of animals.
http://www.rinkworks.com/words/collective.shtml
Posted by Rob Kiser on July 17, 2007 at 8:37 PM : Comments (1) | Permalink
July 16, 2007
Photos From June/July
This slideshow is composed of original images I shot in June and July of 2007 in Colorado and Tennessee. All photos were captured using a Canon EOS 20D and either a Canon EF 17-85mm f/4-5.6 IS USM lens or a Canon EF 100-400mm f/4.5-5.6L IS USM lens with a circular polarizing filter.
Many of these images are of the Honda XR400R that I just picked up. Brian and Les and I went up over Ptarmigan Pass. (Brian took the photos of me on the XR). The Honda is a really sweet ride, but it runs too rich over 10,000 feet, so we're definitely going to have to rejet the carburetor before I take it back up into the mountains.
Also, there's one picture of Jennifer and me camping out in Summit County. I took that shot late in the evening using a tripod and a timer. I kept the shutter open for a long time and we just held really still for the shot.
This slideshow (3:25) is a 15 Meg self-playing executable named other_ways.exe created using Imagematics StillMotion PE+. The soundtrack is Other Ways by Trevor Hall, off of the Shrek The Third soundtrack.
Click here to download the presentation. If you have an Apple, or you're running Unix, or if you're nervous about running a .exe file from my site, then click here to download the Macromedia Flash version. The resolution is not quite as good on the Macromedia Flash version, and you can't pause and go backward and forward, but it loads faster, and it's a fairly decent presention. Click here if you need help.
To see all of the slideshows, click here.
Lyrics in the exended entry.
Continue reading "Photos From June/July"
Posted by Rob Kiser on July 16, 2007 at 12:38 AM : Comments (0) | Permalink
July 10, 2007
Freight Train Trout
Posted by Rob Kiser on July 10, 2007 at 6:08 PM : Comments (0) | Permalink
An Inconvenient Truth: It's Snowing in Buenos Aires
It's snowing in Buenos Aires for the first time since 1918.
BUENOS AIRES, Argentina - Thousands of Argentines cheered and threw snowballs in the streets of Buenos Aires on Monday as the capital's first major snowfall since 1918 spread a thin white mantle across the region.
Where's your global warming now, herr Al?
Posted by Rob Kiser on July 10, 2007 at 8:48 AM : Comments (0) | Permalink
Elbert County Sheriff compares Boy Scouts to "Hamas"
Elbert County Sheriff opposed to local shooting: calls Boy Scouts "Hamas"
"It sounded like Hamas had a training camp next door."

That's not a quote from US Special Forces in Iraq or Afghanistan. That's what Elbert County Sheriff William Frangis said about Peaceful Valley Boy Scout camp's shooting range.

Yes, you read that right: Sheriff Frangis compared a Boy Scout shooting range to terrorists.

Peaceful Valley Boy Scout camp, as well as the western tradition of recreational shooting,n is being attacked by a number of anti-gun liberals, lead by Sheriff Frangis and former Elbert County Commissioner John Dunn. Frangis is a known anti-gun activist and has testified before the legislature time and again in favor of gun control.

Frangis, Dunn and a small collection of screeching liberals want to prevent the Boy Scouts from holding events at the camp's shooting range. 4-H shooting programs are certainly next.

They're using the same, tired old arguments to try to shut down the Boy Scouts shooting range, claiming lead contamination and disruption of the environment as justification for their attack on the Second Amendment.

It is vital that gun owners like you and me let Sheriff Frangis and the Elbert County Commissioners know that attacks on the Second Amendment will not go unnoticed.

Rocky Mountain Gun Owners is closely monitoring this situation, but there is something you can do to help!

E-mail or call Sheriff Frangis and the Elbert County Commissioners and tell them to stop their witch hunt against recreational shooting and the Boy Scouts.

Sheriff William Frangis: (303) 621-2027

Commissioner Suzie Graeff: (303) 621-3132: suzie.graeff@elbertcounty-co.gov

Commissioner Hope Goetz: (303) 621-3139: hope.goetz@elbertcounty-co.gov

Commissioner John Metli: (303) 621-3114: john.metli@elbertcounty-co.gov

Additionally, on July 18th, the Elbert County Commissioners will be meeting to discuss granting Peaceful Valley Scout ranch a temporary permit to continue shooting activities. The meeting will be held at 215 Comanche Street, Kiowa in the 2nd floor conference room, and is scheduled from 9:00am-4:30pm. This meeting's agenda hasn't been published yet, but as soon as RMGO knows when the shooting issue comes up, we will notify you.

Strong representation from the gun community is vital at this meeting.
Posted by Rob Kiser on July 10, 2007 at 1:28 AM : Comments (0) | Permalink
July 9, 2007
iUniverse and Weekly Reader End Publishing Agreement
T H E Journal (Technological Horizons In Education) reports:
"Aspiring young writers can start their publishing careers online through Weekly Reader Press, a Web-based publishing site from Weekly Reader Corp. and iUniverse. "
Weekly Reader crows:
"Weekly Reader Press, which can be found at http://www.iuniverse.com/weeklyreader, is a partnership between Weekly Reader and iUniverse that provides teachers with the opportunity to write and publish books in the classroom quickly and inexpensively."
iUniverse gushes:
"Turn Your Students Into Authors - As an educator, you demand real commitment from young writers -- attention to story line, grammar, spelling, and revision. Now, thanks to a partnership between Weekly Reader and iUniverse, you can engage your students in their writing projects in an exciting new way. Imagine their pride when they see their hard work in a professionally published book."
Unfortunately, all of those aspiring young writers can put their careers on hold, because, according to Tammy at iUniverse (800-AUTHORS x504) and Ira Wolfman (914-242-4053) at Weekly Reader, this service no longer exists. Nothing to see here, kids, move along. Sorry it didn't work out. You can always try your hand at welding or fast food.
Update: OK. Charlie did a little research on this, and it looks like they ended their agreement because they were priced out of the market. There are several websites that will provide the same service for cheaper, apparently.
http://www.lulu.com
http://www.instantpublisher.com/
http://www.cafepress.com/cp/info/sell/books.aspx

Posted by Rob Kiser on July 9, 2007 at 1:19 PM : Comments (0) | Permalink
Extreme Deer Hunting Videos
Here's a video of a guy hunting deer with a Golden Eagle. If your firewall doesn't let you view active content like YouTube videos, click here to view the video.
Here's another guy hunting deer with a Formula 1 racecar. If your firewall doesn't let you view active content like YouTube videos, click here to view the video.
Posted by Rob Kiser on July 9, 2007 at 11:24 AM : Comments (0) | Permalink
Runaway Boat Kills 1, Injures 3
An unoccupied boat was running wide open in circles when it ran into a sailboat, killing 1 and injuring 3, which begs the question - "Why, when you're driving a boat, and you let go of the throttle, does it keep going?" Like, not only does a boat not have brakes, but when you let go of the throttle, it continues at the same speed. Brilliant. I'm surprised this doesn't happen more often.
Posted by Rob Kiser on July 9, 2007 at 9:08 AM : Comments (0) | Permalink
Time Magazine - Democratic Shill
I don't know how anyone can read Time Magazine. It's a shill for the Democratic party. I saw a copy of this rag this weekend, and it has two glowing articles for the Democratic candidates, and none for the Republicans. There's an article on succubus Hillary Rodham. Then, there's also a big article on Obama's Viral Marketing campaign. If you were gullible enough to subscribe to this magazine, you wouldn't even know the Republicans were running.
Posted by Rob Kiser on July 9, 2007 at 2:39 AM : Comments (1) | Permalink
Summer Rain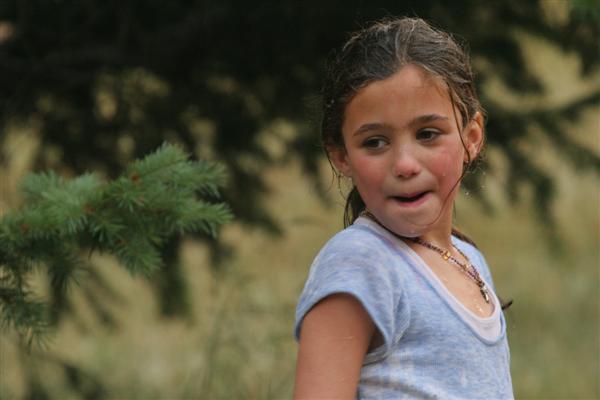 Jennifer and Megan got caught out in a summer rain today.
Posted by Rob Kiser on July 9, 2007 at 2:22 AM : Comments (0) | Permalink
July 8, 2007
George Carlin - The Planet Is Fine
Posted by Rob Kiser on July 8, 2007 at 8:17 PM : Comments (0) | Permalink
Couple Ramps SeaDoo Off 4 Story Spillway
http://www.myfoxdfw.com/myfox/pages/News/Detail?contentId=3708206&version=1&locale=EN-US&layoutCode=VSTY&pageId=3.1.1
There's going to be a lawsuit over this for sure. A couple was riding a SeaDoo yesterday on Lake Lewisville in Texas. They were cruising around wide open and accidentally drove over the spillway. Apparently, it isn't very well marked. So, they went over the spillway and landed on on about six inches of water flowing over concrete. Somehow, they both lived. New they're talking about putting up some more buoys to warn people that there's a spillway there. Lawsuits to be filed in 3....2.....1.....
Posted by Rob Kiser on July 8, 2007 at 11:49 AM : Comments (0) | Permalink
July 7, 2007
The Long Road To Jennifer
At two in the morning, I'm 16 hours and a thousand lines into a program. I kick it off and watch it run, sending waves of cryptic data washing across my screen. Outside the window, a boat is idling in the harbor. The twin diesel engines gurgle and babble as the waves rise and fall against the hull. The sound is so peaceful. I'm very close to sleep.
Nothing to do now but watch it run. The data goes by too fast to be meaningful. If the program crashes though, the messages help to track down the problem. But as long as it's running, they're meaningless.
The gurgling engine sooths me as I search for patterns in the data that streams across the screen.
Suddenly, it occurs to me….there can't be a boat outside the window. There's no harbor out there. Just an asphalt parking lot. The boat is a CSX diesel locomotive idling and hissing outside in the dark.
For the rest of the story, buy my book "Killing Strangers".
Posted by Rob Kiser on July 7, 2007 at 10:55 PM : Comments (0) | Permalink
White Water Rafting
Well, the runoff from the snow melt finally dropped enough that I decided it would be safe to go white water rafting. Jennifer had never been before, and they said that she could go. Because of her size, though, they didn't give her a paddle. They just let her sit in the middle of the boat and just go along for the ride. It was 86 degrees when we left the house, but even so, the water is unbelievably cold. They said it was 43 degrees. I don't doubt it.
Posted by Rob Kiser on July 7, 2007 at 5:34 PM : Comments (0) | Permalink
July 6, 2007
Free At Last, Free At Last
I finally got back to Colorado to play with my new toy. And I must say, it's very nice. Many thanks to Brian for helping me go collect it. We already pulled the main jet on the carburetor and it has a 142 in it now, which I think is stock. Of course, I'm going to put a 132 in there so that it rides smooth at two miles above sea level. And the front sprocket has two teeth less than the stock one to gear it down for the mountains.
It's hot up here at my house today...probably 86 or so. I'm standing in the sun, sweating, and I ask Brian "You think Webster Pass is open yet?"
"Probably not yet. You know that one part that's in the shade?"
Crazy to think that the passes are still snowed-in in July, but I'm sure he's right. Webster Pass is probably not open yet.
Update: After some careful study, I appear to have purchases a 2002 Honda XR400R. The stock jets that came in the carburetor in 2002 appears to be the 142/52.
Posted by Rob Kiser on July 6, 2007 at 1:26 PM : Comments (0) | Permalink
Drobo
This new storage device is unimaginably cool. I watched the Drobo video today and this thing is so slick I thought it might be a hoax. But, it's a real product. It figures. I got my Buffalo Terastation in October, and this little jewel comes out six months later. Doh!
If you're looking for a storage solution for a lot of data, this Drobo looks like the way to go.
Posted by Rob Kiser on July 6, 2007 at 1:44 AM : Comments (1) | Permalink
July 4, 2007
Fourth of July
"[Independence] is in truth a delusive bait which men inconsiderably catch at, without knowing the hook to which it is affixed..." Carter Braxton - Signator of the Declaration of Independence
Posted by Rob Kiser on July 4, 2007 at 8:16 AM : Comments (0) | Permalink
July 3, 2007
The King of the Frogs
Today is Wednesday and I'm walking down the railroad tracks for a BBQ sandwich with coleslaw and pickles and rib sauce and sweet tea. This is what we always do on Wednesdays. Usually, I take my camera with me so that I can shoot the graffiti on the trains that roll by at odd, unpredictable intervals.
Today, I don't have my camera. No real reason except that I just forgot it and I figured, probably nothing would come by anyway.
I'm nearly at the BBQ store when I hear the train's horn. Sometimes I'm sure that I can hear them at the crossing down in Normandy. Sometimes I'm wrong but sometimes the train does come and now the horn comes again much clearer, and I can tell that it's off key.
I hate it when their horns are broken like that. You'd think they'd fix them but his horn is off key and he's blowing it now cause he's approaching the crossing and it's that engineer that they fined for driving through town too fast and now he always comes through way too slow and blows the horn way too loud for way too long. He's been getting his revenge for years now.
Continue reading "The King of the Frogs"
Posted by Rob Kiser on July 3, 2007 at 7:53 PM : Comments (0) | Permalink
Lost And Found
The previous post about "Keeping Track of Your Gadgets" reminded me of something that happened to me earlier this year.
When the 1st blizzard of this winter started on December 20, 2006, I lost my cell phone in the office parking lot at work. Although I knew I had lost it outside, I didn't know exactly where. Within minutes, it had been buried. After about 1/2 hour of searching, I gave up, and considered the phone lost.
On February 12, 2007, I found my phone by accident.
It had been buried under the snow for nearly two months, and was filled with water.
Thinking "I've got to get some pictures of this," I grabbed my camera, returned to where I had found the phone, and snapped some pictures before all of the water had drained out. Some of my co-workers were puzzled when they saw me taking a pictures in the parking lot, and were even more puzzled when I explained that I was photographing my cell phone.
I let the phone dry for a few days, charged the battery, and -- lo and behold! -- it powered up. Qwest re-activated it, and I'm it still using a half a year later.
Posted by Robert Racansky on July 3, 2007 at 5:00 PM : Comments (1) | Permalink
July 1, 2007
Keeping Track of Your Gadgets
This article tells about various solutions to help you keep track of your electronic gadgets. Foster, you might want to look into this.
Posted by Rob Kiser on July 1, 2007 at 9:54 AM : Comments (3) | Permalink
Deathbed Confession in Roswell Incident
This guy says he was there, at Roswell, New Mexico, and saw alien bodies.
Text of confession in extended entry.
Continue reading "Deathbed Confession in Roswell Incident"
Posted by Rob Kiser on July 1, 2007 at 9:36 AM : Comments (2) | Permalink
Why Didn't I Think Of This?
Some guy down in Florida claimed he invented a new way to compress and transmit data to satellites and investors started throwing millions of dollars at him.
As the investment money poured in, Kovar increased salaries and doled out bonuses, employees said. He frequently took them out on his boat, treated them to dinner at the Melting Pot and Bern's Steak House and spent $20,000 on a New Year's Eve party complete with a horse-drawn carriage for guests. He even got Jennifer Fishel, his office coordinator, an Omega slide necklace with diamonds for her birthday one year, she said.

For their July 2002 wedding, she said, he flew guests on seven helicopters into the Grand Canyon. He sent her son to an exclusive local private school and moved her into his $1.3-million waterfront home in Tierra Verde.

She said he was smart, generous and kind. He also was excessive, flashy and lived a disposable life. He would throw out the Christmas lights and decorations with the Christmas tree. Once he bought a massive pot for a shrimp boil and threw it out rather than clean it.
Unfortunately, the technology was a hoax.
Posted by Rob Kiser on July 1, 2007 at 9:12 AM : Comments (0) | Permalink